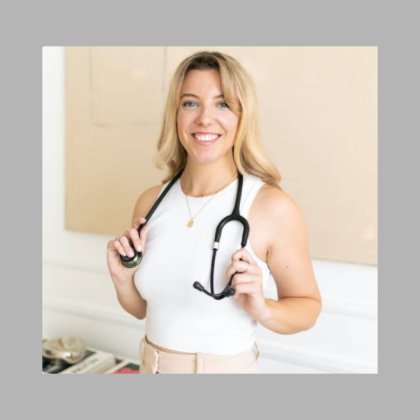 Kaitlyn Holbrook
Starting In January 2024.
Kaitlyn grew up as a competitive Irish dancer, which led her to Be In Motion as a patient almost 20 years ago. Her athletic background allowed her to develop a deep appreciation for the resilience of the human body and the importance of the connection between physical, mental, and emotional health. She went on to obtain an Honours BSc. Kinesiology from McMastery University in 2016, and then to pursue a Doctor of Naturopathy degree at the Canadian College of Naturopathic Medicine.
» Read More
Kaitlyn believes in a patient-centred approach to healthcare. She provides a compassionate safe space where you can feel heard, as well as the guidance and education you need to become an active participant in achieving your health goals. Together we will take a deep dive into your health history and use lab testing when necessary to create an individualized treatment plan using nutrition, supplementation, botanicals, acupuncture, stress management, cupping therapy, lifestyle interventions, etc. I enjoy working with a range of concerns including gut health, hormonally driven conditions, musculoskeletal imbalances, skin issues, reproductive health, and lots more. I will be taking new patients as of January 2024, and I look forward to supporting you in living your healthiest, happiest life!
» Read Less