Infrared Therapy Sauna
Our clinic now offers Infrared Therapy to our clients. Infrared therapy is the frequency of invisible light that is generated naturally by the sun. It is a type of low energy therapy that takes advantage of the heat generated by waves of energy from the far end of the infrared spectrum.
Infrared light/heat penetrates deep into your body (2-7 cm) all the way to the inner layers of your skin, to your muscles, nerves, and bones.
Science has proven beyond any doubt that infrared light therapy is a safe, drug-free and effective method for long-lasting pain relief and injury-healing – anywhere in your body.
Benefits
Ease Joint Pain and Stiffness. Radiant heat has been effective in the treatment of sprains, arthritis, neuralgia, bursitis, muscle spasms and joint stiffness.
Muscle Pain Relief. Increased blood circulation carries off metabolic waste products and delivers oxygen-rich blood to oxygen depleted muscle, aiding in recovery.
It has the ability to increase your blood circulation and stimulate sweat glands, releasing built-up toxins in the body. Infrared is seven times more effective at detoxification of heavy metals in our bodies.
Enhanced metabolism, blood circulation and tissue oxygenation
Decreases Blood Pressure
Decreases Stress
Improves Peripheral Neuropathy
Improves symptoms of Fibromyalgia
Decrease weight loss. You can burn 200-600 calories in a treatment.
Improves symptoms of Chronic Fatigue Syndrome
Improves Chronic wound healing
Improves many skin conditions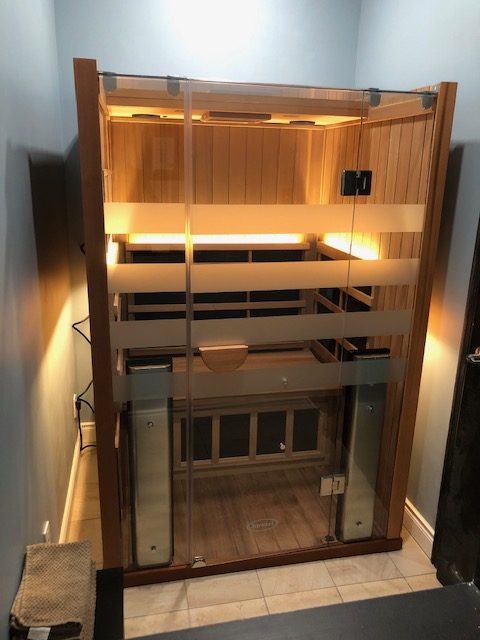 Research:
Infrared therapy for chronic low back pain: A randomized, controlled trial
George D Gale, MBBS FRCA FRCPC DAAPM,1 Peter J Rothbart, MD FRCPC,1 and Ye Li
Contact us for further information.